Here at King of Pops, we like to have fun! Since we're a growing business, meetings and planning are a big part of our operation (just like everyone else!). Over the years, we've worked to improve our off-site meetings to blend getting things done while having a good time. Here are some general tips to improve staff buy-in while accomplishing everything on your agenda.
1 - Be Prepared! In order to balance work flow with fun times, you gotta be prepared! Just like any other meeting, the leader of any off-site gathering always has an agenda. But more than just a work plan, we also like to plan ahead for food, dranks, and entertainment!
We recently held an overnight powwow in preparation of our upcoming Tree Elves Christmas Tree Delivery Service. Before arriving, everyone signed up to bring a food or drink item, and the organizer emailed the team the day's agenda. Because we were so prepped for the weekend, we could just hang, party, and hot tub the first night, and were able to have a super productive meeting the next day.
2 - Location, Location, Location. In looking at scheduling an off site meeting, we like to find an environment that is conducive to getting work done and has a fun element as well. Recently, we had an all day sales/marketing meeting in a conference room (AKA arcade room) at a bowling alley. It felt weird at first, but after a while we totally got used to the sounds of arcade games and air hockey in the background.
By nightfall, we were able to run through every item on our agenda, come up with solid action items, and ended the day with a few rounds of bowling. Having the meeting in a different setting from our typical conference room gave the team a refreshed feeling, and the bowling at the end of the night was an added bonus. Team Building at its finest!
Sales and Marketing enjoying some air hockey!
3 - Timing is Everything. Each spring, we attend an all-company Symposium to get jazzed for the upcoming season in a retreat-like setting. Not only does the time of year help with a feeling of renewal; the agenda while we also like to rock the agenda and to-dos each day during typical business hours. But since the couple hours from our office and we're all sleeping there, we schedule in time at the end of each day for beers, games, and general good times. The focus during the day helps everyone to earn a fun night!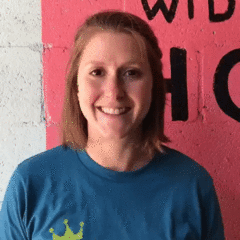 Ali Mills
AKA Office Queen. Ali is our Customer Experience Manager, which includes booking catering events and making sure that KoP customers are all happy! She enjoys helping to make sure the toner never gets low, talking to customers, and trying to know every answer to any pop-related question possible. She began as a slinger in 2015 and now you can hear her voice on the KoP voicemail. What a rush!