Back to work! It's January - the holidays are over and it's time to kick off the new year! Everyone tries to start the year fresh with New Year's Resolutions in their personal lives. Eating better, reading more, or getting more exercise are great goals outside the office, but what about at work?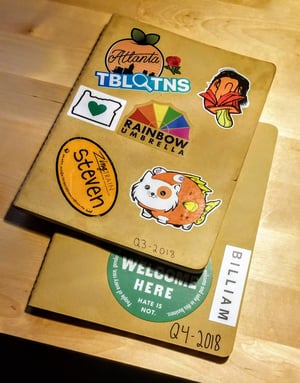 If you can set up plans for the year with attainable goals, it makes getting back to work more exciting. Here are some ways to keep your team motivated with Office Resolutions for the New Year!
Fun Sales Competition: A Resolution of Revenue

Introducing some healthy competition between staff can be both motivating and fun. Because we have our yearly sales goals in place before the new year, it makes daily, weekly, and monthly goals easier to visualize. Every day in the sales office, we like to keep track of number of deals closed on a whiteboard by rep. Other options are resolving to close a certain dollar amount per week, take a certain number of sales meetings, or send a certain number of emails. Just like a personal resolution, it's great if it's both challenging and attainable.

Office Surprises: A Resolution of Fun

We like to look ahead for the year and put fun on the calendar to keep folks motivated - i.e. resolving to host a monthly fun staff event. Last year, we celebrated National Waffle Day (August), Earth Day (April), and a mid-summer BBQ to celebrate making it through half the year. It was so fun to already have everything planned and even though it felt like August would never arrive, it was SO FUN when we got to share tiny waffles with our coworkers!

Customer Service: A Resolution of Good Vibes

This year we decided that in 2019, we would focus on customer service and do more training. Rather than having a vague idea of what that looks like, we resolved to have a 95% or higher customer satisfaction rate. By starting the year with this specific figure in mind, it makes our customer-facing employees and trainers for in tune to what our customers want, and makes surveys and mystery shopping a more fun challenge.
Even though work resolutions may not be as fun as personal resolutions, you'll feel so good at the end of the year if you're able to hit some of your goals!
Ali Mills
AKA Office Queen. Ali is our Customer Experience Manager, which includes booking catering events and making sure that KoP customers are all happy! She enjoys helping to make sure the toner never gets low, talking to customers, and trying to know every answer to any pop-related question possible. She began as a slinger in 2015 and now you can hear her voice on the KoP voicemail. What a rush!