Seven years ago I read Jack Stack's The Great Game of Business. (I loved it, and it inspired me to want to build a different type of business)
Six months ago I went with our company's leadership team to ZingTrain's Open Book Management Seminar. (I loved it, and it made me want to press a button and have what has taken Zingerman's a decade to build)
Last week, at our annual Symposium, we rolled out Open Book Management to our company. (I loved it, and I know more than ever that it is the right thing to do)
The basic idea behind Open Book Management (O.B.M.) is that employees at every level will make better decisions if the companies vital information is shared with them, and equally important that they are taught what it means.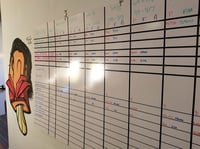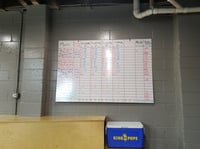 While it is something that I have wanted very badly for quite some time, it has become clear over the last several days that it is very much not about me.
In order for it to work, employees at every level need to be inspired by their ability to influence their metric and ultimately the companies success. And this might seem obvious, but it's important ... in order for it to work, employees at every level need to have aligned goals, and one of them needs to be profitability.
Teaching about profitability has been one of the more difficult parts of the process for me, and I think the general discomfort many leaders have around the necessity of profit in a for-profit company is a big part of why financials live behind a wall in most companies.
So far, nothing has been neat and tidy about our Open Book Management implementation. Our boards are still a work in progress, our lines are still being tweaked and the majority of our front line employees (perhaps the most important to consider when implementing O.B.M.) have not been introduced to it yet. But we've started ... and that may be the most difficult part.
I was especially proud of my brother Nick last week when he rejected his normally hurried ways and patiently introduced the ideas of O.B.M. to 40ish of our salaried employees from all areas of the company. For 3+ hours we went over the basics of Finance.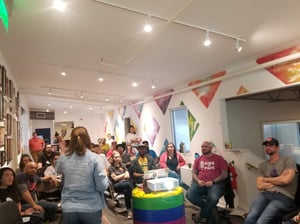 The session was so important that we are holding a Symposium 2 for the first time to introduce the ideas of O.B.M. to more folks.
I'm going to chronicle our process. My guess is that it will take us a year to fully implement (I've decided everything takes a year). If you want a summary of what O.B.M. is ... wikipedia does a pretty good job. Check it out HERE.
---
Here are some quick notes from our first few weeks:
Having a physical board is extremely important. We have been tracking many of the same metrics for years, but the exercise of writing with a marker on a board somehow makes it more real.
You will want to have A LOT of metrics (lines). It is better to start with A VERY FEW metrics. Ideally one per person.
Be consistent on common language. We have been using the word "budget" and "plan" interchangeably. That is confusing. We now try to only use the word "plan"
Plan, Forecast, Actual. (P, F, A.) Writing these on the board and then talking about them is the best way to get to the most important issues. We have spent so much time with ad hoc issues that were usually added to a list minutes before the meeting starts. By measuring what matters, and letting issues bubble up from those numbers, you have a better shot talking about the most important stuff.
Leave the board in a public place, and take it with you into your meeting room. It allows for one less screen to be on, and leads to a more engaging meeting.
People tend to "feel it" more when they don't have their lines filled out, as opposed to a spreadsheet with a blank cell.
1/8 inch tape is better than 1/4 tape when you are building your grids. Lowe's or Home Depot sell the boards for ~$15.