So, you spend how many hours at your desk a week? It could be anywhere from 20, to 40 plus hours! That is a lot of time! Too much time for your work space to be dull and boring. Why not add some personality to your home away from home. Here is an example of how we took one of our desks from drab to fab!

Pick a Theme: Take a moment to think of the things you like. Then do some research (visiting Pinterest is a must).
We decided to go with a theme that is pink, shiny, and pretty! You maybe wondering if that is really considered a theme. Of course it is, because this is about finding a fun way to express a little bit of yourself, so you do you!
Get your paint on: Take some of those boring desk items and give them a new look. It could be your desktop file organizer, pencil holder, or whatever you have that would benefit from a makeover. Grab a can of spray paint and get painting. We choose a computer stand and some baby pink paint.
Time to decorate: Now it is time to find some cute items to bring the whole look together. The best places to look in my opinion for cute and cheap deco are Target, Amazon (next time you're on the site check out the top bar on the main page for new and interesting finds on Amazon, it is amazing), and IKEA. Look for interesting office supplies that match your theme, cool picture frames, and fun notebooks. Plants are always a nice touch, but faux plants are even better, because you don't even have to water them!
I promise this desk makeover will not only grab the attention of your co workers, so much so they may just have to make over there own desk. But it will also lift your mood and make it more enjoyable to be at your desk for all those hours a week!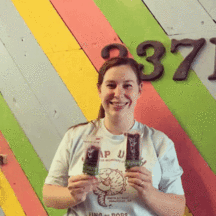 Dani Maskery
Graphic Designer, New Mommy, and Coheed & Cambria music lover! Dani is our resident graphic designer responsible for all the awesome graphics you see on our website. She's also been known to paint some stellar art work when she's not immersed in the Pop Kingdom.