Here I am on a Sunday morning at 8am staring at a half finished mural I've been helping to paint on a garage door at a unique little market in Charlotte.
It had rained really hard the night before which had caused the chalk outline for the rest art to disappear and the paint to bubble up - adding hours of work. For a moment, I had to question myself, why am I up here on my weekend, 4 hours away from home, getting up early in the cold and wetness? Should we have just paid for some sort of Ad and be done with it?
Certainly there is a reason why we don't. But in this moment I wasn't so sure.
For a little background, the idea for the Mural Project came from our company's 2018 symposium. Our first wall was at Westview Corner Grocery, one of our wholesale customers, in Atlanta. We held a call for artist contest on Instagram, which got a ton of engagement and submissions to be narrowed down. The winner was Ben Wallis aka @beardyglasses on Instagram. He is a very talented freelance designer and illustrator who was looking for a chance to create his first mural.
What we got was his happy pastel palette concept of "better together" depicting a cat and dog pair, musical instruments, paper and pencil, rain and an umbrella, socks and flies, peanut butter and jelly, salt and pepper, and of course a pop in a mouth. It certainly created a new perspective and vision for King of Pops since the mural was in his unique voice and style.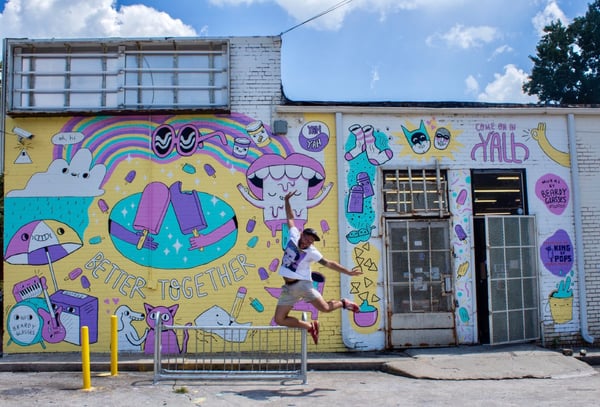 The winner gets a small amount of cash, a year's worth of pop tokens, supplies, and exposure through our social media platforms.

We are also encouraging and trying to select up and coming artists who may have a tough time getting started without a little help, so the opportunity to add mural experience to their portfolios is really important as well.

It is a win for the store that gets some fresh art on a wall at no cost to them, a win for the artist, and a win for King of Pops.

As I was preparing to leave our pop HQ in Atlanta and drive up to Charlotte I was anxious about what I was getting myself into.
Who was I about to meet?, Would the owner of the market like the work? What was our artist going to be like when we finally met in person instead of just emails? Would it just rain all day?
Mostly I was just worried about pulling this thing off.
We had been planning this for months but it felt like everything could fall apart at any moment, but whether it worked out or not, I was proud that we were able to create this opportunity.
I arrived at The Common Market Southend in Charlotte on Friday at 6pm. I met our artist Cynthia, the business owner Graham, checked out the space, and gave them both a King of Pops t-shirt as a thank you for being a part of this project.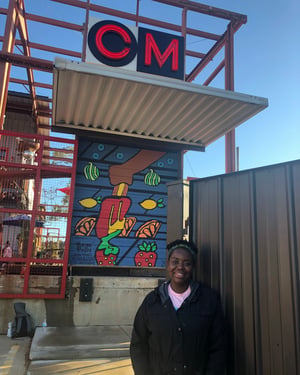 Over the next two days I assisted Cynthia with painting her artwork on this garage door. It was a long two days of work, and at times it was cold and a bit wet, still she stayed positive and grateful for the opportunity. It was awesome to see the folks visiting the market stopping to tell her how much they were loving her work and asking to follow her on social media. In these moments I could really see the true purpose of this project.
Cynthia Allison aka @cici_artsyhippie, a native to Charlotte, was selected out of 85 submissions that came in through a call for artists on our King of Pops Charlotte Instagram account. Her style is described as edgy, folksy, and whimsical. Her main inspirations are: music, nature, comic books, and the world around her, and she has a passion to beautify her Charlotte community through art … sounds perfect right? (we thought so).
Her submission depicted a pop as a paintbrush dripping onto a strawberry surrounded by other funky little fruits. Something we would have never thought of, but adds another unique perspective on our brand that we would not have gotten otherwise.
So for me it has it has taken extra work and effort that I feel is totally worth it. Through the Mural project we have been able to get out from behind the computer and engage with our community.
We provide a wonderful business with new art for their wall at no cost to them. We open up an opportunity for an up and coming artist to create and show off their awesome work within their community.
While we could have easily just used our marketing dollars to pay for a billboard, bus stop sign, or any other form of traditional advertising - that feels like it is missing something. That something is heart and the pulse of that heart is the people within the communities we are a part of. The Mural Project is one of our best examples of that and (Rain or Shine) I am looking forward to seeing which city we will be heading to next year.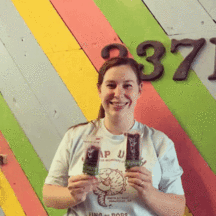 Dani Maskery
Graphic Designer, New Mommy, and Coheed & Cambria music lover! Dani is our resident graphic designer responsible for all the awesome graphics you see on our website. She's also been known to paint some stellar art work when she's not immersed in the Pop Kingdom.