If you had told me that one day I would be paying my bills by selling popsicles, I would have laughed with tears in my eyes. If you had continued by adding that I could watch Braves games while doing so, you might have ended up attending my funeral:
"Here lies Tyler Lawhead, death by laughter in the form of ROFL"

Yet here I am, two months away from my one-year anniversary with King of Pops and I still feel incredibly blessed. I came in asking for a job and instead received an incredibly friendly, down-to-earth King of Pops (KOP) family, a welcoming and vibrant culture, opportunities to get involved in community projects, invitations to bumpin' company parties and events, an elf costume, an awesome umbrella hat, and, of course, all the free pops that I can consume.
I often get asked "so what do you do for King of Pops? Do you work those push-cart thingies with the umbrella and chalkboard? And while I do dabble in the catering and cart-selling world as a slinger (slinguh, slinga, slizz-linger), my primary KOP role is as a hawker (hawkuh, hawkie boy, the Hawkinator, etc). But, more on that later.
At King of Pops, us part-timers are the face of the company. We are the ones you interact with, crack jokes with, share your life story with, and buy our one-of-a-kind pops from. Most of the time, you will see us at one of our many cart-selling locations around Atlanta, with the signature umbrella and chalkboard, or at various catering events around Metro Atlanta. However, there is one other place that you will see us, and you don't even have to be standing to do so.
I'm talking about the new Suntrust Park, home of the Atlanta Braves. While slingers stay with their carts and do the selling from there, us hawkers are on foot, walking up and down the concrete aisles bringing the pops to you. We get hot and sweaty just to be able to bring the king of pops magic to those who prefer to stay seated during a Braves game, have a large group with them, or those who just can't seem to find our carts (They are normally on every level of the stadium, though). While slingers have guests come up to their cart to buy a pop, we bring the pops to you. Carried in a freezer bag with some dry ice, we make sure that everyone can enjoy a King of Pop in the comfort of your seat, watching the game.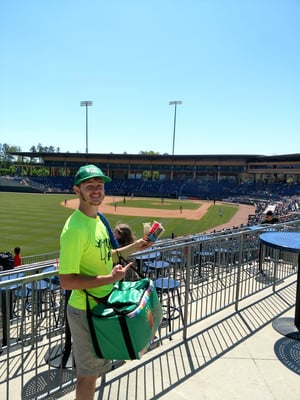 You may be asking, "but wait, how will I know if it's truly a King of Pop without seeing the famous rainbow umbrella? Well, thank you for asking that, reader! Us hawkers maintain the King of Pops brand by wearing rainbow umbrella hats on our heads as we walk around. The umbrella hat is a must-have for the ambitious hawker. I have probably sold most of my pops each game due to our guests seeing the unmistakable head garment and either being astonished and filled with curiosity, or having their eyes light up as they yell "King of Pops!!!" from 7 rows back.
Now, don't get me wrong, the cart is still totally awesome and is the original home to our popsicles. But, as someone who is fast-paced, high-energy, and has a limited supply of patience, it's just not what I prefer. Many people like to chillax under the umbrella, meet people as they approach the cart, and create Unexpected Moments of Happiness (UMOHs) from where they stand. For hawkers like me, we prefer to bring the pop to the customer and create UMOHs right from the freezer bag. We aren't afraid to scream "GETCHA KING OF POPS RIGHT HERE!" because we know that we are selling an amazing, environmentally-conscious, all-natural product. We take pride in walking down those concrete stairs, nearly tripping, interrupting the game with our hawkie noises and whatnot because when our community recognizes our logo and umbrella hat, they know that it's gonna be a good time. I mean, who can get angry or be rude while buying a delicious popsicle? I think it's almost impossible, and that's what makes it so easy to bust my booty scouring the stadium trying to deliver a variety of King of Pops flavors to as many people as possible.