I have been feeling pretty reminiscent lately for a few reasons. One, on March 2nd it was my daughter Ruby's first birthday and I was in literal shock for a week that the year had flown by so fast. Then a few days after, on the 8th it was the 2nd anniversary of when I got hired onto the King of Pops team as a graphic designer and 1 year since I had been moved to full time. My life has changed so much since last March.
As I sit here today I can reflect on how happy I am to have made it through those first couple of sleep deprived & scattered months. Not only did I make it through, I succeeded in having a great year at my job, proving I am reliable, and most importantly being an available mother.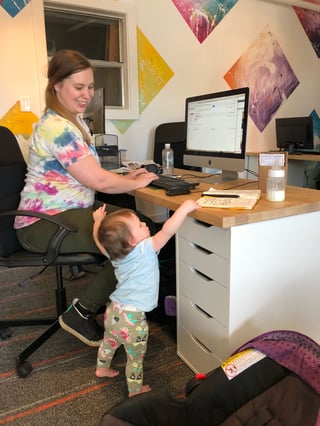 The number of working moms with young children grows every year. Which means there are tons of first time mothers taking on the challenge of a juggling a career and learning to parent. So, I will share my main tips for any employer or coworker that will help support an awesome mama feel good in the workplace.
Be Understanding:
• New moms will need more breaks, especially if breastfeeding. Make sure she has a space in the office that she can escape to do the deed.
• She may have moments when she needs to rush home, come in late, leave early. It is a learning experience on how to be away from your baby.
• She might cry at time for seemingly no reason at, it will be ok, but keep some tissues around.
Be Thoughtful:
• An encouraging note, small gift, and also snacks can make new mom feel considered.
• Show genuine interest when she talks about her new baby 24/7 & wants to show off pictures.
• Give extra positive reinforcement. When she is doing a good job let her know.
Be Flexible:
• There will be nights where she is up all night with the baby, which will make for some rough mornings. Having flexibility in her schedule can help her feel better rested, which will keep her more productive.
• If she can work from home some days, let her work from home. She will appreciate the time to be more present for her child and also gain an appreciation for less interrupted work time in the office.
• Communication will be key. Have open conversations about expectations, schedules, concerns, the ups and downs, talk about it all so that everyone stays on the same page!
Mom's are awesome. Let's help them be their most awesome! From my experience any of these acts could help lift her day and make it easier to flow between work life and mom life. Just a little understanding, thoughtfulness, and flexibility (on both ends!) will go a long way in creating harmonious relationships in the workplace.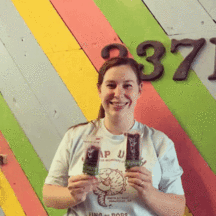 Dani Maskery
Graphic Designer, New Mommy, and Coheed & Cambria music lover! Dani is our resident graphic designer responsible for all the awesome graphics you see on our website. She's also been known to paint some stellar art work when she's not immersed in the Pop Kingdom.