See you later summer! While we are sad to see summer go, we are huge fans of fall over here - just like you! You know we're always working on zany, delicious pop flavors, so here's a little backstory to how these four flavors came to be this year's Fall-o-ween pops!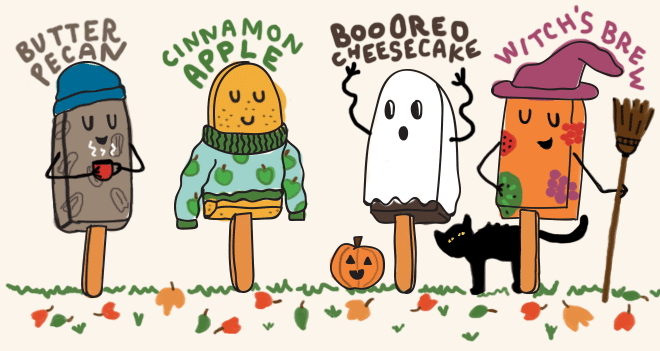 Fall is apple picking season and we really wanted to create an apple flavored pop this year. We thought of different apple pairings. Trust us, it was a tough call to make. But! We landed on Apple Cinnamon because it's a warm and inviting fall pairing. We also wanted to give a nod to classic Thanksgiving desserts like apple pie and apple crisp. Our Apple Cinnamon pop combines juicy Granny Smith Apples with warm cinnamon notes to create a creamy pop full of fall flavor and nostalgia.
Continuing to go off of classic Thanksgiving desserts we chose a quintessential flavor in the South - Butter Pecan. After all pecan harvesting begins in late September going through late November so it's the perfect time for pecans! This pop is a perfect compliment to the crisp fall air. Creamy, sweet, and nutty with a delicious buttery back-note, this pop is perfect for the pecan lovers out there!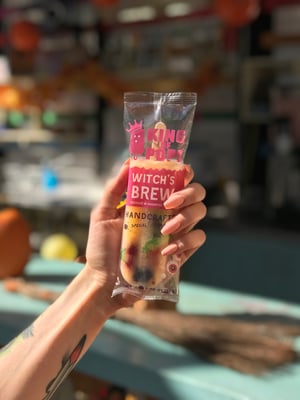 Now getting a little silly and spooky with our next two flavors. We thought of what a witch with a sweet tooth would brew up in her cauldron for us and double, double, toil, and trouble our Witch's Brew Pop was made! Starting with an orange-ade base, we threw pieces of kiwis, strawberries, blackberries, and raspberries into this pop to create a frozen treat that's fruity, tangy, and kinda hypnotizing honestly.
So far we made some classic flavors but we still wanted to make a very indulgent rich pop and we decided to play with the idea of a cheesecake. We thought of adding a cookie to the mix in hopes of making this pop more indulgent. This is how we came to creating our newly popular Boooreo Cheesecake Pop. It really blends the cream filled chocolate sandwich cookies with a cream cheese base to produce a delightfully creamy, chocolatey, rich pop packed with flavor!
We can't wait for you all to try this seasons Fall-o-ween pops! Promise we tried very hard to create some fun flavors for you to make some new fall memories with or create a new tradition with. Now before you click out of here we have a question for you before you go - is it pee-can or puh-caun? Comment below!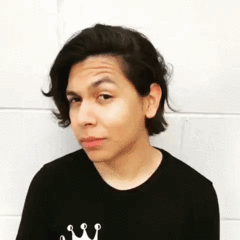 Diego Torres
Diego is simultaneously the most stylish and saucy employee at King of Pops, wearing exclusively black or rose. He is our resident marketing coordinator and is a man of many talents. He runs all of our social media accounts and wears the hat of in-house publicist. He is a founding member of the KoP Run Club, and has the best Peachtree Road Race finish line photo to date.